Thank you for contacting BNL Home Improvements , a representative will contact you shortly.
Glen Gardner Kitchen Remodeling
BNL Home Improvement Is The Premier Glen Gardner Kitchen Contractor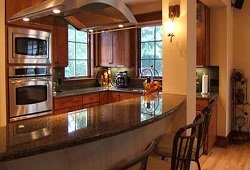 Are you a New Jersey homeowner looking for ways to update and increase the value of your home? One of the most beneficial changes you can make to increase your homes value and make it feel fresh again is to remodel your kitchen. Whether you are planning to sell your home or you simply want a kitchen that is more suited to your living requirements, you need to hire a Glen Gardner kitchen renovation contractor that has the professionalism and experience you can count on.
The Glen Gardner Kitchen Designs Expert at BNL Home Improvement Will Use Your Vision To Build You a Custom Kitchen That Is Highly Functional To Suit Your Style and Tastes!!!
The kitchen is the central location of a home where we get together to cook, eat, and converse about life events. Adding new countertops and cabinets will make everyone fall in love with the kitchen again! Our highly-skilled team will transform your old kitchen into exactly what you want.
Does your kitchen lack the space and flow you want? We can expand it with a bump-out to create a more practical space for your growing needs. The material selections and modern comforts to produce your dream kitchen are unlimited.
We Will Work With You Directly On:
Space Planning
Preferred Style
Kitchen Cabinetry
Countertops and Backsplashes
Faucets and Sinks
At BNL Home Improvements, remodeling and construction services are our core competencies. Countless New Jersey homeowners have already discovered why we are the number one choice for home improvements. Our team has the experience and knowledge to pair the best products to fit your budget, function, and the look you desire.

You can trust the remodeling specialists at BNL Home Improvements. We are a fully licensed and insured contractor that knows what your home needs!!!
CALL BNL HOME IMPROVEMENT (908) 343-3590
We are the one-stop-shop for the interior and exterior of your entire home. Our team has decades of experience and we have been helping New Jersey residents improve their homes since 2007. Feel free to contact us and see what we can do to enhance your home.

See More Of Our Services: