Legacy Steel Doors

Legacy Steel Doors

Legacy Steel Doors
Legacy Steel Doors
Legacy Steel doors are available in Natural Oak, Light Oak, Oak, Dark Oak, Walnut, Cherry, and Dark Mahogany. All Heritage fiberglass doors exhibit our exclusive 5-Step Stain and Paint Finishing System, allowing us to offer a 7-year* finish warranty.

---
---
---
---
Measurably improve thermal performance with our ComforTech Warm Edge Glazing System. Every ComfortTech glass package features a NO-METAL spacer between the panes of glass and gas filled cavities that provide you with highly energy efficient glass and a warmer glass edge.
What is Colar Heat Gain? (SHG)
SHGC is a measurement of how much of the sun's heat is transmitted through the window or door.
It is best described in terms of a ratio; where one is the maximum solar heat gain that comes through a window and zero is the minimum. A window that has a SHGC of .3 will allow 30 percent of the sun's heat to pass through.
What is DWT?
The DWT (Damage Weighted Transmittance) measures fading risk for furnishings and other materials. DLA-UV is 43% better than clear glass and 23% better than DLA.
DWT is calculated according to a function called Tdw-ISO, developed by the International Standards Organization and published by the International Commission on Illumination (CIE), the world's leading technical organization on light and illumination. The Tdw-ISO calculation measures fading risk from solar radiation across the entire solar light spectrum, from Ultra-Violet light through visible light. According to the CIE standard, which is considered more comprehensive than Ultra-Violet rating alone, our UV glass packages can minimize fading damage across the entire solar spectrum more effectively than glass designed primarily to block Ultra-Violet light.
All calculations based on 7/8" thick, double glazed, single strength IG units using NFRC (National Fenestration Rating Council) methodology with Lawrence Berkeley National Laboratory's Windows 5.2 software.
NFRC is a non-profit, public/private organization created by the window, door and skylight industry.
NFRC's primary goal is to provide accurate information to measure and compare the energy performance of window, door or skylight systems.
Other Glass Options:
Triple Glazed High Performance Low-E Argon or Krypton Glass
Inspirations Art Glass
Obscure Glass
Double Strength Glass
Tempered Glass
Tinted Glass in Bronze, Gray or Green
Azurlite Glass
Sleek and modern or textured and classic
Legacy Steel Doors are available in three elegant steel styles (Woodgrain Textured Steel, Smooth Steel and High-Definition Smooth Steel) that complement any home.
Also available in:
20 Gauge Steel
20 Gauge Textured
22 Gauge Textured
---
Energy efficient from the inside out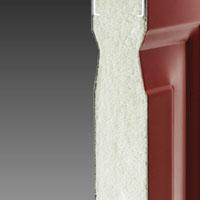 Legacy doors are foam filled by a precise, computer-driven process, ensuring that every crevice is filled and maximum energy efficiency is achieved.
---
Maintain the perfect temperature
Our thermal barrier helps reduce heat and cold transfer, keeping your home energy efficient all year round.
---
More security for fewer worries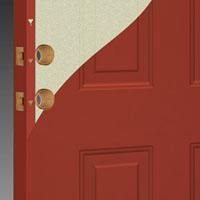 The rigid composite lock blocks on Legacy Steel Doors give an added amount of reinforcement to the lock and deadbolt area, making your home more secure.
---
Unsurpassed strength
Legacy 20-gauge Steel Doors have 49% more galvannealed steel than standard 24-gauge doors, making them exceptionally stronger than competitors 24-gauge steel doors.
---
The right fit for your home
The widths and heights of our Legacy Steel Doors can be customized in 1/8 increments to match your home perfectly.
---
Two looks in one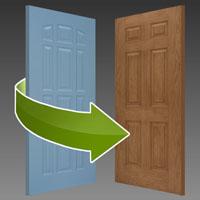 Legacy Steel Doors can have two completely different styles and finishes on each side of the door, enabling you to truly customize your entryway.
Go Back